This Week in the Market – Edition 49
As the recent workplace safety campaign highlights – some of the most important reasons for workplace safety aren't at work. It's getting home safe to your family that's important. As we get to know our new home at Epping it's an ideal time to re-visit safe workplace practices, especially with regard to driver safety.
Whilst forklift drivers at the Market are some of the most skilled in the business, accidents can still happen. Following the rules of the Market, and complying with workplace safety rules and guidelines provides a safer workplace for all – ensuring we all get home safely at the end of the day.
There are designated forklift routes at the Market so that pedestrians and forklifts do not cross paths. Please remember, you can only drive your forklift on the authorised forklift routes and need to stay off the main circulation roads (Produce Drive and Badalya Road). View the forklift safety factsheet online.
Many access points mean you can move around quickly
Use the forklift 'highway' outside when moving produce from truck to stand
Forklifts should not be left idle on the trading aisles
Forklifts are not allowed on the buyers' walk or pedestrian aisles
Stay off the main circulation roads.
Separation of vehicles at Epping

In the interests of safety, the Market design separates pedestrians and different vehicle types. Therefore there are to be NO passenger vehicles parked in bays designed for produce loading/unloading (Light Commercial Vehicle/Rigid/Semi). To date, warnings have been issued with penalties commencing imminently.  For further explanation refer to Parking factsheet.
Recycling at the Market

It is up to us all to keep our new Market clean and ensure the Market continues to be a safe, clean and enjoyable place to work and visit. Please follow the below steps on how recycling operates at the new Market and read the recycling fact sheet on our website.
1. Separate your waste at your stand, store, or place of work:
Organic
Cardboard and paper
Polystyrene
Plastic/shrink wrap
Timber
General/mixed.
2. Find your nearest recycling station – there are eight Satellite Recycling Stations located around the Market. View the overview map to see locations.
3. Put the separated waste into the right depository at the Satellite Recycling Station. Look for the signs.
4. Bulk or palleted goods can be delivered directly to the Recycling Centre.
Fees must be paid before waste or recycling will be accepted at the Recycling Transfer Centre.
Produce Delivery
Produce must be delivered to loading zones adjacent to parking bays. This will reduce congestion on roadways by ensuring there are no obstructions for vehicles to enter their parking bays.
By following the below produce delivery guidelines, we will be making the best use of the site and accessing, delivering and loading produce as efficiently, safely and quickly as possible.
Produce can only be delivered to loading zones
Loading zones are either side of parking bays (and at the rear of some light commercial vehicle bays)
The loading zone is shared equally by the parking bay on either side
It's expected that you and your neighbour will work out the arrangement to use the space most effectively
Free Wi-Fi for the first two months!

The Melbourne Market are offering all market users free Wi-Fi for web browsing until October 30 2015!
To access the free Wi-Fi follow the steps below.
Go to your Wi-fi settings on your smart phone or mobile device
Choose the network "MelbourneMarketwifi"
Open your web browser
Follow the prompts to create your new Wi-Fi account.
The Melbourne Market Wi-Fi will be available within the flower market, trading stands and the buyers walk only.
Greengrocers we need your feedback!

Calling all Greengrocers! Colmar Brunton on behalf of Department of Economic Development, Jobs, Transport & Resources is conducting some independent research and wants to hear from you. We aim to speak to a wide range of greengrocers across Victoria.
The survey will remain open until midnight Wednesday 9 September. Please provide your feedback now to enter into the PRIZE DRAW to win a month's free Parking at the Market (Terms & Conditions
Valued at $232 based on 1 x reserved, covered, rigid truck bay regardless of actual vehicle type and quantity). Use the link below to access the survey.
http://surveycentre.colmarbrunton.com.au/GreenGrocer
Food Fellas Café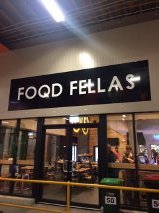 open for business
Steve (from Café 2 at West Melbourne) and his crew opened their doors for business yesterday and they have something new to offer. Taking the move to Epping as an opportunity to offer the Market community some new menu items, Steve has also stepped up their on-site delivery. "We want to offer the Market community at Epping something a bit different" Steve said, "the mezzanine level is also a great place to hold informal meetings".
Did you know?
Australia Post are now picking up daily mail from the red post box located at the administration building next to Gate 1.  Please keep in mind if you want your mail picked up on the day it will need to be put in the mailbox by 4:30pm.
Key dates
Friday 2 October   Grand Final Public Holiday
Friday 18 September   Mailbox application and payment required
30 October Conclusion of free Wi-Fi at Epping
Ask the MMA
We've had some great ideas from the Market Community since opening – keep them coming! Next week we'll share a list and tell you what we're implementing.
If you have a question for the MMA please send it to submissions@melbournemarkets.com.au
---