Recycling at the Market is good for the environment and can save you money.
We're working to increase recycling at the Market so that we:
have a cleaner, greener Market
minimise the cost of operating the Market – and therefore the cost to Market tenants, increasing cost effectiveness and competitiveness.
How does it work?
Quayclean manages recycling, waste collection and cleaning within the Market on behalf of the Melbourne Market Authority (MMA).
A user-pays system is in place, making recycling and waste management fairer for everyone.
Disposal charges are:
Sorted recyclables including cardboard, paper, polystyrene and plastic are recycled free of charge.
The first 100 kilograms of uncontaminated/clean organic waste can be recycled free of charge with every additional kilogram charged at a rate of $0.20 (ex GST) per kilogram.
$0.50 (ex GST) per kilogram for general waste and contaminated organic waste for landfill.
Unsorted waste delivered to the Recycling Transfer Centre will be charged at the general waste/landfill disposal rate.
Plain pallet disposal is free at the Recycling Transfer Centre and dedicated plain pallet drop off zones.
Any waste dumped on Market land will be tracked to a market user. Dumped waste will be charged at general waste rates and will incur demerit points under the Market Operating Rules. Associated cleaning charges will also be charged at $200 per incident of dumping.
What do I need to do?
Separate at the point of origin and take your recycling to the Satellite Recycling Stations or Recycling Transfer Centre to avoid waste disposal fees.
1. Separate your waste at your stand, store, or place of work:
Organic
Cardboard and paper
Polystyrene
Plastic/shrink wrap
Timber
General/mixed.
Watch the below video to hear Merna answer some of the more trickier questions when it comes to disposing of waste at the satellite recycling stations.
2. Deliver bulk or palleted goods directly to the Recycling Transfer Centre
All bulk waste and recyclables must be delivered to the Recycling Transfer Centre.
3. Find your nearest recycling station
For small quantities, there are 8 Satellite Recycling Stations located around the Market. Each Satellite Station contains Maxicages where you dispose of your separated recycling. Each Maxicage displays the signs for each recyclable stream.
Small quantities of organic waste (1-2 boxes) can be disposed of in designated tote bins located inside the Fruit and Vegetable Trading Stands from 6.00am to 9.00am Monday to Friday.
The Satellite Recycling Stations adjacent to the fruit and vegetable Stores will accept cardboard, polystyrene and plastic only. Organics are to be disposed of directly at the Recycling Transfer Station.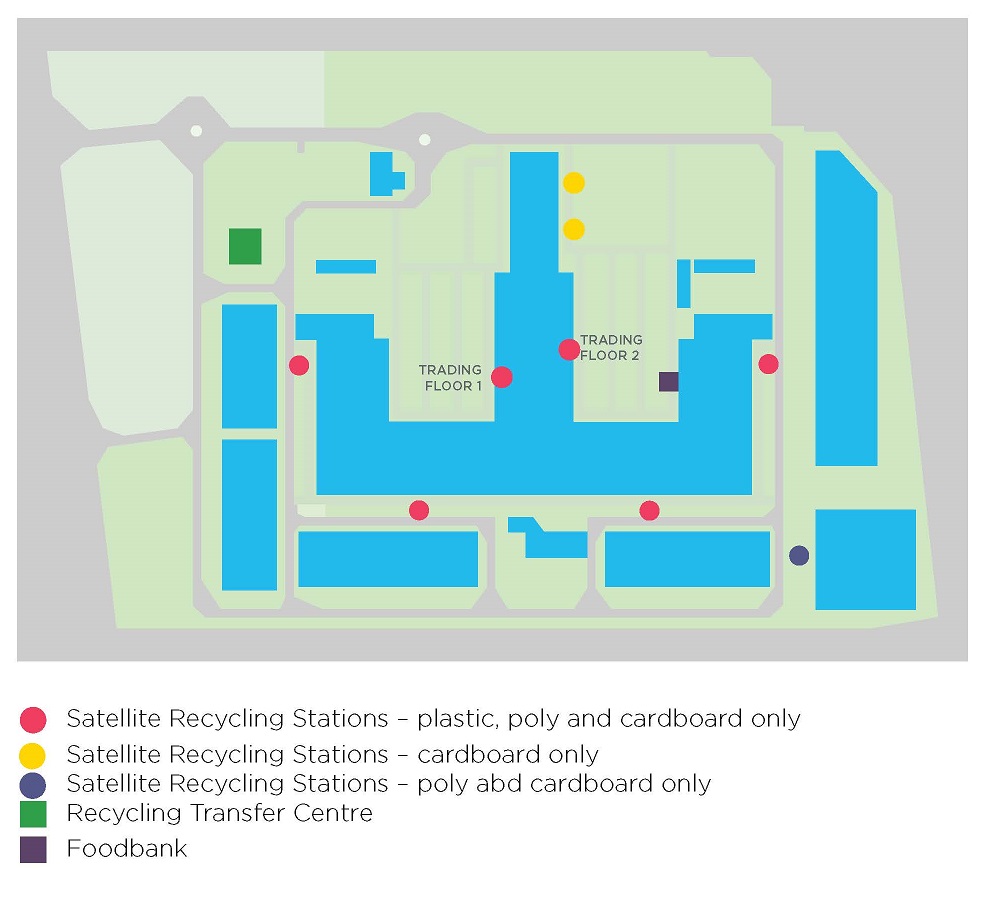 Recycling Transfer Centre
Payments must be paid at the Recycling Transfer Centre (debit card and credit card including paywave accepted). All credit card transactions attract a 2.5% transaction fee.
The Quayclean manager at the Recycling Transfer Centre will work with you to provide the most cost effective disposal, including rates for bulk organic disposals.
All payments are issued a receipt. There is no need to lock into a contract, you can pay as you go. If you deliver your waste to the Recycling Transfer Centre, you save on pick-up fees.
| | |
| --- | --- |
| Separated Recycling/Waste Disposal Item | Fee (ex GST) |
| Cardboard only | No Charge |
| Plastic Only | No Charge |
| Polystyrene only | No Charge |
| Organic waste | The first 100kg is free with every kg over charged at $0.20 per kg |
| General waste | $0.50 per kg |
| Timber pallets taken to transfer centre | No Charge |
| Contaminated waste | Per general waste |
Bin hire for stores and warehouses
Tote bins can be used to dispose of bulk waste or recyclables, just remember to separate to save.
To reduce your costs, tote bins can be picked up and dropped off to the Recycling Transfer Centre at no cost.
Foodbank and FareShare
Traders at the Melbourne Market have a long history of donating to food recovery programs, including Foodbank and FareShare. Organic product that is fit for human consumption can be donated to Foodbank (next to Store 148) and FareShare (next to Store 6), Monday to Friday from 6.30 am until 9.00 am and is tax deductible at the Market price of the produce.
Contact Foodbank on 03 9362 8300.
Pallets
Any pallets left anywhere on Market Land will be cleared and disposed of by the MMA at a cost to the responsible Market Business. If the pallet disposal includes other waste such as boxes of produce, additional costs will apply.
Plain pallets can be disposed of at the Recycle Transfer Centre at no charge or left at one of the designated pallet drop off zones around the Market.
All Market users of pallets should have an account with Loscam or CHEP for their pallets.
Melbourne Market Recycling streams
Waste Stream
Annual volume
Process on-site
Intermediary
Destination
Use
Polystyrene
132.39 tonne
Crushed and compacted into square
Hanson's (Wollert Landfill)
Overseas

Packaging for furniture
Electronic goods
Picture frames

Organic
1016.78 tonne
Sorted to remove contamination
Yarra Valley Waste to Energy
Epping

Processed into clean renewable energy to power neighbouring sewage plant

Organic farm collections
57.78 tonne
Sorted to remove contamination
Local farms

Collected by three local farms using produce for livestock feed.

Organic waste fit for human consumption
218.75 tonne
Sorted
Foodbank
Victorians in need

Distributed via Foodbank networks and agencies to feed Victoria's vulnerable communities.

Cardboard
1000.78 tonne
Sorted and compacted
Handson's (Wollert Landfill)
Visy

Packaging, industrial paper, tissues, newspaper, insulation's, kitty litter or even moulded cartons for eggs and fruit.

Plastic
114.41 tonne
Sorted
Handson's (Wollert Landfill)
Visy

Used to make 100% recycled PET.
Used for fleeces, sleeping bags, pens, carpet, and plastic tables and chairs.

Wood/timber pallets
459.06 tonne
Crushed into wood chips
Mossrock
Local use

Recycled and used to make new pallets
Mulched for use in gardens, playgrounds, schools etc.
*Annual volumes for FY19-20.
For other recycling and waste queries please contact the Quayclean contract manager at the Waste Transfer Station on 0438 365 958 or speak with a Market Relations Officer.