Overview
The MMA has begun the construction of new undercover parking canopies.
Once completed, the six canopies that will sit between the trading floor, Buyers' Walk and cross-over forklift highways, on both the northern and southern sides of the market, will provide an additional 2.2 hectares of undercover parking.
The canopies have been designed to satisfy the logistical needs of the market community but also to maximise environmental benefits.
This is the biggest construction project at the Melbourne Market since our move to Epping, with an estimated completion date of March 2022.
Watch the below video to learn more about our solar undercover parking canopies, including a virtual fly-through of the completed structure.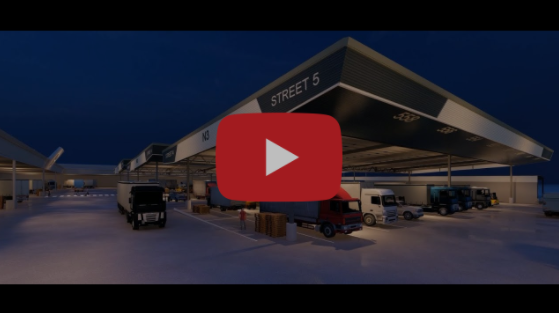 ---
Parking Bay Relocation
As of Monday night/Tuesday morning (24th/25th May), some parking bays will have to be temporarily relocated as we begin constructing the upright supporting columns of the first canopies.
Please see the below images, or click here to download the pdf, that lists all businesses affected by the temporary relocation.