MarketFresh Magazine – Summer 2017/18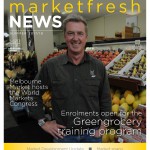 The summer edition of the MarketFresh magazine is out now!
Check out the latest Market projects including the landmark Greengrocery Training Program, what to expect from the bollard installation in the Buyers' Walk, the World Union of Markets Congress wrap up plus some great snaps from around the Market.
Check out the magazine online or ask Customer Service for your copy today.
---