Flower Market Circular – Edition 19
What to expect week one at Epping
Traffic
There will be a traffic management team on Cooper Street and outside Gate 1 to handle vehicle queuing, should it be required. These personnel will also assist you to find your parking bay once inside the gate.
Please follow the instructions of these personnel.
Parking

Ensure your parking permit is displayed on your car windscreen if you have it.
Familiarise yourself with the parking zones at the Market here.
Unreserved car and light commercial vehicle parking is in zones P3, P5 and P6.
Smoking
While the new Market is generally smoke free, there are designated smoking zones available in the vicinity of the Flower Market.
Questions about week one?
The Help Desk can be contacted 24/7 on 0437 006 459 regarding any queries over the weekend or when trading commences. Parking queries should be directed to 03 9258 6132.
For most of us, this is a once in a lifetime experience, please stay calm and try to enjoy it.
Trading hours and access to the Melbourne Market at Epping
Flower Market – Trading Hours
Tuesday, Thursday: 3:30 am – 7:00 am Saturday: 4:30 am – 7.00 am
Yesterday's email from the Melbourne Market Authority sent to business principals incorrectly referred to West Melbourne opening hours instead of Epping opening hours.
Please note that eligible buyers are able to access the site 15 minutes prior to the beginning of trade and up to 30 minutes prior to the close of trade. Flower Market stand holders can access the Market  from 7pm the evening prior to a trading day.
Don't forget the Celebration Event at West Melbourne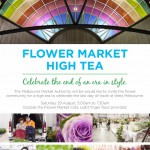 We all know things don't always go exactly to plan. The way things work on day 1 may not be the way things work on day 30, 60 or 100. We'll adapt and change as we need to. And we'll need your input to make sure the Market works as efficiently and safely as possible.
---