This Week in the Market – Edition 66
In today's This week in the Market a reminder that children are not allowed at the Market, Fire Services Levy update and passionfruit point of sale available now.
At the Market
Children are not allowed at the Melbourne Market
Some Market users have fond memories of their time spent at the Melbourne Market as a child in decades gone by. Community attitudes regarding personal and workplace safety have changed dramatically in that time. As a result, children under 15 years of age are not permitted on site at the Melbourne Market, Epping, at any time. With 900 or more forklifts on site plus trucks and heavy machinery, the Market today is very different from the past and is never safe for children.
Evacuation of the trading floor on 19 January
At 7.45am on Tuesday 19 January the fire alarm in the trading floor was activated. Whilst we're pleased to report this was a false alarm, we would like to take the opportunity thank the Market community for your cooperation.
The evacuation was successful and the Market Relations Officers were impressed with the response from all involved. Please take some time to familiarise yourself with the evacuation plan and muster points on posters around the Market.
Recycling at Epping –remember to separate and SAVE 
The pre-paid, user-pays system makes recycling fairer for everyone. If you separate your waste, you can save. Sorted recyclables including cardboard, paper, polystyrene and plastic are recycled free of charge at the satellite recycling stations or the Recycling Transfer Centre.
Disposal charges for organic or general waste are:
$0.075 (ex GST) per kilogram for uncontaminated/clean organic waste for recycling.
$0.19 (ex GST) per kilogram for general waste and contaminated organic waste for landfill.
Unsorted waste delivered to the Recycling Transfer Centre will be charged at the general waste/landfill disposal rate.
Advisory Committee nominations closing soon
Advisory Committees work with the MMA to advise on matters relating to Market operations and the fresh produce industry. Advisory Committees represent each key stakeholder group:
Storeholders
Standholders
Fruit & Vegetable Buyers
The MMA is seeking nominations by individuals or industry organisations. Nominations close 3pm, Friday 5 February 2016.
You can download relevant forms below or pick up in hard copy from MMA Administration reception between 7.00 am and 3.00 pm Monday- Friday.
Advisory Committee Nomination Form
Advisory Committee Terms of Reference 
Industry News
Passionfruit point of sale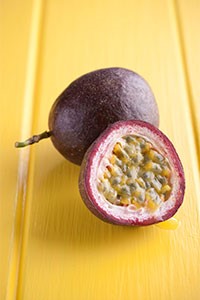 Greengrocers are encouraged to grab a passionfruit point of sale kit to help promote this delicious fruit. Passionfruit is grown commercially from northern New South Wales up the eastern seaboard to far North Queensland. Australian hybrid varieties are known to have a greater depth of flavour.
Point of sale kits including recipes are available now from the Customer Service Centre.
Apply now: Young grower mission heading to South America
Young Ausveg vegetable levy payers are encouraged to apply for the upcoming 2016 Young Grower Industry Leadership and Development Mission to South America.
If you're a vegetable levy payer, under the age of 35 and would like to visit some of South America's leading growing operations in Peru, Chile and Argentina, express your interest by emailing AUSVEG via info@ausveg.com.au, call (03) 9882 0277.
Nice One!
One reason why Avocado prices are through the roof?
Australian Avocados was awarded second place under the 'best use of a small budget' category for their social media campaign at this year's BEfest Awards. These awards recognise the best branded entertainment work being created across Australia and New Zealand.
The 'Mash-Up' series was developed to provide the Australian Avocado Facebook community with twelve unique video recipe ideas to inspire them to try new dishes and be creative with using avocados. The ultimate intent of the campaign was to help drive additional avocado consumption.
The response from Facebook followers was overwhelming with more than half a million people viewing these videos and over 19,000 post engagements (likes, comments and shares). The campaign also fostered engagement and helped inspire additional usage.
Check out the 'Mash Up' series here.
Did you know?
City of Whittlesea rate relief
Thanks to the City of Whittlesea, all lease holders at the Melbourne Market are exempt from paying Council rates for five years from the date the Market opened. This represents a saving of between $3.5 and $4 million to the Market community.
Fire Services Property Levy
Although the Melbourne Market Authority have an agreement with City Of Whittlesea that no rates will be charged on premises in the Market for the first 5 years, the Fire Services Property Levy (FSPL) will be payable during this time.  City Of Whittlesea will be issuing rates notices to tenants early February – the notices will have a nil amount for rates, but will have a payment for the FSPL.  This is because local councils are the collection agency for FSPL via rates notices, but the money goes directly to the State Government, not the council.
Key dates
Australia Day Public Holiday
Tuesday January 26. Market Closed.
Advisory Committee nominations close
Friday 5 February, 2016
Melbourne Market Golf Day
Save the date Friday 15 April, 2016
---