This Week in the Market – Edition 60
In today's This week in the Market we provide an update on Buyers' Walk line markings and warehouse operation factsheet available now.
At the Market
Line marking on the Buyers' walk 
The MMA are aware that line marking on the Buyers' Walk is lifting. Lend Lease, the builder responsible for these works, have been advised of this and alternative, harder wearing solutions are currently being investigated. We'll keep you updated on developments, but we're committed to returning the line marking to original condition and in preventing this from reoccurring again so soon.
Warehouse 5 & 6 operations fact sheet available now
To help in running your warehouse in buildings 5 & 6 as safely and efficiently as possible, a Warehouse Operations fact sheet has been produced. Passenger vehicle parking at the rear of warehouse buildings 5 & 6 have now been numbered with the tenancy number making it easier to locate your parking bay.
Changes to recycling at the Market
A number of changes to recycling at the Melbourne Market are taking place beginning with new look satellite recycling stations. Please take note of new signage coming soon and ask an MRO if unsure of how to dispose of your waste streams at the Market.
Don't miss your chance to own a piece of Market history – and all for a good cause!
Now's your chance to own an iconic image of the trading floor at the West Melbourne Market!   We have three large images up for auction.
These are:
2 x 200cm wide by 150cm tall Canvas prints BID NOW
1 x 180cm wide by 118cm tall Perspex print BID NOW
You can view the auction items on display at tenancy 70.
Then head over to our ebay store to place your bid! The auction will close on Thursday 26 November, 2015.
All proceeds from the Auction will be donated to the Northern Health Foundation.
Industry News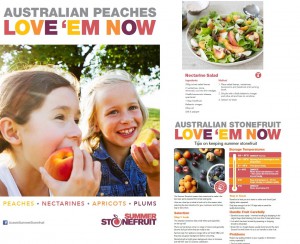 Summer stonefruit point of sale
Greengrocers, don't forget to pick up your summer stone fruit point of sale kit from the Customer Service Centre between 4.00 am and 11.30 am Monday to Friday. Australian Summerfruit's campaign tagline is 'Love Em Now' – inspiring consumers to get 'stuck into 'Aussie peaches, nectarines, plums and apricots. Along with a PR and media campaign, marketing activities will also include point of sale material for independent retailers to use throughout the season. The kits include:
4 x A3 posters (one for each fruit)
Trade flyer
Recipe booklet.
New industry body to replace VGA
The Victorian vegetable and potato industries have a new representative body Ausveg Vic. Ausveg Vic aim to provide Victorian growers with a strong voice in relation to the agri-political issues facing Victoria's 840 vegetable and potato growers and build upon the work done by the Vegetable Growers Association of Victoria (VGA), which was established in 1923. Ausveg Vic promise to extend the strong model for industry advocacy that Ausveg has established at the national level to Victorian growers, and will use this experience to effectively represent grower interests to government and the community and further the development of horticulture in the state.
Did you know?
Your business may be eligible for wage subsidies
A Federal Government incentive has been put in place recently to encourage employers to hire eligible job seekers. The initiative aims to reduce complexity and red-tape for employers as well as provide greater flexibility in the face of high hiring and training costs. To read more about how this can assist your business, please click here.
Nice One
Melbourne Market growers the Marra family were recently featured in The Weekly Times discussing this seasons stone fruit harvest with grower Joe Marra. The Lake Boga producer, who farms on 44 hectares with his father Antonio and brother Robert, said this year's stone fruit is looking promising. If you missed the story you can read it here.
Ask the MMA
Question: Last week was really hot on the trading floor, is this due it being enclosed?
Answer: Last week there were some unusually high overnight temperatures in Melbourne. The overnight low was 19.9 degrees on Thursday morning and at 5am the temp was already 21.9 degrees. To put this in perspective, Melbourne's hottest minimum ever recorded is 23 degrees in November 2012 so we were pretty close to reaching that record. That's why it also felt warm in the Market.
For the trivia buffs, the November average minimum is 11.4 and overall summer average minimum is 13.9 so this was unusually warm weather.
If you have a question for the MMA please send it to submissions@melbournemarkets.com.au
Key dates
Parking inquiries
5.00 am to 9.00 Monday and Thursday
MMA staff answer parking allocation queries and take payments for parking in Store 78 across from the Customer Service Centre on the Fruit and Veg Buyers' Walk.
Christmas holiday hours on web now 
November 26
Auction ends for your chance to own a piece of Market history – and all for a good cause! Head over to our ebay store to place your bid!
---