This Week in the Market – Edition 57
In today's This week in the Market, pooling equipment account enforcement at the Market, forklift safety reminder and vale 'Banana Jack'.
At the Market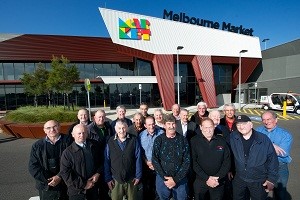 Celebrating the veterans of three Markets
Recently, a number of Market veterans took time out from working and obligingly posed for a group photo. Veterans of Queen Victoria, West Melbourne and Epping Markets, and all of them still working, they all have some colourful stories to tell. Thanks to each of them for taking the time to participate in this photo. The MMA is in the process of printing and framing a copy for each person in this historic picture.
Pooling equipment at the Market- enforcement about to commence 
As part of the Market Operating Rules, all fruit, vegetable and flower related businesses that use hardwood pallets need a 'pooling equipment account'. Pooling equipment accounts provide a more efficient and cost effective system for everyone. If you do not have an active pooling equipment account and are found to be using pooling equipment in the Market, you risk all access cards associated with your business being cancelled. If you require assistance with applying for or activating your pooling equipment account, please contact Customer Service between the hours of 4.00 am – 11.30 am Monday to Friday on 03 9258 6123.   If you don't use pooling equipment, or use pallets which are not provided by a supplier (plain pallets for example), you can elect to complete a statutory declaration advising this is the case, exempting you from the requirement to have a pooled equipment account.
Upcoming CHEP workshops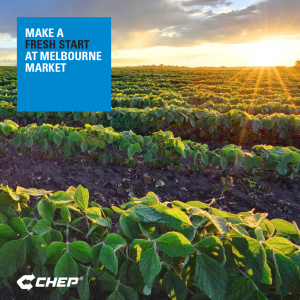 CHEP invites all Market users to a workshop on how to get the most out your pooling equipment.
When: Thursday 5 November 7.00am – 8.30am
Where: Melbourne Market Conference Room, Ground Floor, Administration Building.
The workshop will cover:
Dispel the myths and rumours about pooling equipment accounts.
How CHEP are engaging all market users
As a CHEP account holder, how you can now use reusable crates and bins
Ways to better manage your CHEP account
Don't forget to apply for a pooling equipment account if you haven't done so already.
Industry News
Have you just hired a young employee? You may be eligible for up to $7500 to assist with training costs through the Industry Skills Fund – Youth Stream. The fund includes a pilot program, Training for Employment Scholarships for small to medium businesses. The programs assist business by supporting job-specific training for new and young employees. Programs are available nationally until 30 June 2016. For further information visit the Department of Education and Training website or speak to Derek or Adam from Recruitment Unlimited on (m) 0423 879 748 about staffing and recruitment specific to the Market.
Vale 'Banana Jack'
John McNish affectionately known as "Banana Jack" sadly passed away last week aged 86. He was a valued member of the Melbourne Market community and a 40 year Service Club and Life Member of Victorian Chamber of Fresh Produce Wholesalers. He will be well remembered as the Manager of Star Fruit and his impressive work in Banana Promotions. In his latter years he worked for Fresh State as a Banana Liaison Officer. His family have said that when Jack left the Market the Market never left Jack. Vale Jack from the Melbourne Market.
Did you know?
Recently we had a forklift incident at the Market which resulted in the fork rolling over. Like most forklift drivers in the Market, the driver was skilled and experienced. Because the driver was wearing a seat belt, injury was prevented. Had the driver not been wearing a seat belt in this instance, the consequences would have been tragic.
To ensure you make it home safely from work, only drive on designated forklift highway, always wear a seat belt and adhere to the 10 kph speed limit. These rules are enforced because the most important reason for workplace safety is not at work at all.
Ask the MMA
Where can I exchange pallets at the new Market site?
CHEP pallets can be dropped off and de-hired at Robinson's Unloading found at Warehouse 2.11 on Badalya Road Monday to Friday between 3.00 am to 10.00 am. Entry is via dedicated CHEP yard.
Loscam pallets can de-hired with Vince at East End Hire located at EFS1 between 1.00 am and 9.00 am Monday – Friday. This is for the Market community only.
If you have a question for the MMA please send it to submissions@melbournemarkets.com.au.
Key dates
Parking inquiries
5.00 am to 9.00 Monday- Friday (Tuesday is a public holiday).
MMA staff answer parking allocation queries and take payments for parking in Store 78 across from the Customer Service Centre on the Fruit and Veg Buyers' Walk.
---