This Week in the Market – Edition 56
At the Market
Market Family Day wrap – hope you enjoyed it!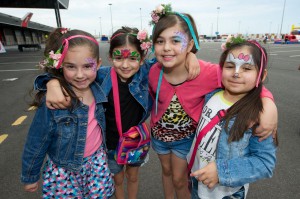 The Market Family Day was held on Sunday October 25 and included fun for young and old. It was pleasing to see so many Market families and friends on site to enjoy the free activities. From Humphrey B Bear to live band Blush, trackless train rides of the Market floor to pony rides there really was something for everyone. We had more than 1000 people attend the event and take part in the celebratory activities which were formally opened by Melbourne Market Chairman Steve McArthur.
Melbourne Cup Day Public Holiday trading  
The Melbourne Market will be closed on Tuesday, 3 November for the Melbourne Cup Public Holiday. The Market will open at 3:30 am on Wednesday, 4 November.
Waiting list for parking
Parking at the Market is linked to your access card. As of yesterday, anyone who has not arranged and paid for parking in the Market will not have vehicle access through Market gates. Read last week's Market Circular about access and parking here.   Please note that those Market users who are currently waiting for their parking allocation need to pay for casual parking to ensure continued access to the site. All vehicles accessing the Market site are required to have a paid (reserved/unreserved/casual) parking allocation.
Emergency Management at the Melbourne Market
To assist in creating a safe working environment, the MMA is offering a free training session on the emergency management procedures at the Melbourne Market.  This session is open to all and light refreshments will be provided. Register your interest by emailing the names of the attendees to workrequest@melbournemarket.com.au
Details:
When: Thursday 29 October
Where: Melbourne Market Conference Room, Ground Floor, Administration Building
Time: 9.00 am – 10.30 am
CHEP invites all Market users to a workshop on how to get the most out your pooling equipment.
When: Wednesday 28 October 7.30am – 9.00am and Thursday 5 November 7.00am – 8.30am
Where: Melbourne Market Conference Room, Ground Floor, Administration Building
The workshop will cover:
Dispel the myths and rumours about pooling equipment accounts.
How CHEP are engaging all market users
As a CHEP account holder, how you can now use reusable crates and bins
Ways to better manage your CHEP account
Don't forget to apply for a pooling equipment account if you haven't done so already.
Industry News

Nominations are open for the vegetable industry's national Growing Leaders program  
The program focuses on giving participants the tools and understanding they need to have a positive impact on their own future, the future of their business and the future of the Australian vegetable industry as a whole. If you know someone in the vegetable industry who would be keen to join the 100 alumni of this prestigious program, simply contact Rural Training Initiatives and request an application form before 22 January 2016 to apply. Please note that places are limited. The program is funded by Horticulture Innovation Australia using the National Vegetable Levy and funds from the Australian Government.
Ask the MMA
Question What number do I call if I need to contact the Melbourne Market for urgent matters outside of business hours?
Answer   All Melbourne Market users can contact the 24 hour helpdesk on (m) 0437 006 459 for queries relating to the site such as recycling, maintenance and security. If you have a question for the MMA please send it to submissions@melbournemarkets.com.au
Key dates
Thursday 5.30 am – 10.00 am   MMA staff answer parking allocation queries and take payments for parking in Store 78 across from the Customer Service Centre on the Fruit and Veg Buyers' Walk
Thursday 29 October 9.00 am – 10.30 am, free training session on the emergency management procedures at the Melbourne Market.
30 October Conclusion of free Wi-Fi at Epping
30 October Store lease holders from West Melbourne need to ensure that make good obligations have been made by this date.
---