This Week in the Market – Edition 53
At the Market
You're invited to the Melbourne Market Family Day!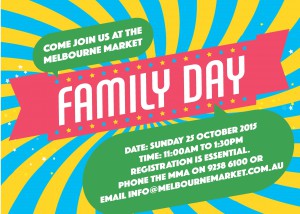 The Melbourne Market Family Day will be held on Sunday 25 October from 11:00am to 1:30pm.  Come and meet AFL legends Bachar Houli from Richmond and Joe Daniher from the Bombers, little ones can sing and dance to childrens' entertainment while the adults will enjoy kicking back and relaxing with our live band Blush! Plus heaps more- stay tuned… Registration is essential. Call the MMA on 9258 6100 or email info@melbournemarket.com.au to register.
Calling all Gold Card holders who are veterans of three Markets
We've gathered together a few of you for a commemorative photo, but we think there's more out there. The MMA is keen to identify anyone who has worked at the Queen Vic Market, West Melbourne and now Epping. The photo is taking place this Thursday at 9.00 am. Don't miss out on this opportunity to be part of history! Call Angela to register on 9258 6162.
CHEP workshop this Wednesday 7 October
CHEP invites all Market users to a workshop on how to get the most out your pooling equipment.
When: Wednesday 7th October
Where: Melbourne Market Conference Room, downstairs of the Administration Building
Time:     7.00 am-9.00 am   The workshop will cover:
How CHEP are engaging all market users
As a CHEP account holder, how you can now use reusable crates and bins
Ways to better manage your CHEP account
Don't forget to apply for a pooling equipment account if you haven't done so already.
Did you know?
It's important that recycling is sorted and no waste is left behind at the Market. Fines and demerit points will apply to Market users who are not following the Market's Waste Management Plan. Read more about how to recycle and save money in the Recycling Fact Sheet on the website, speak with a Market Relations Officer or visit Ikon at the Recycle Transfer Station to discuss all your options.
Industry News
Market on the Move wrap
The Market on the Move fundraising initiative is drawing to a close and we would like to thank everyone associated with the Melbourne Market for their support.  From BBQ's to shredding, forklift processions to online fundraising – it has been a giant team effort.    The beneficiaries of Market on the Move – Very Special Kids and the 20th Man Youth Fund, will be presented and the final amount raised revealed at the Fresh State Ball on Friday 9 October.   There is still a small amount of time to donate if you haven't done so yet so please jump online at www.marketonthemove.com.au as every cent helps out kids in need.
Market Business highlight
Ready for the game at Sportsman Café   Abe from Sportsman Café knows that the Market community loves their sport and has decked out his new café with framed AFL jerseys from every team on the ladder. With Foxtel on the big screens so "everyone can enjoy a game while they have a break" no matter what code they support. Stop in and catch a match while you enjoy some of your favourite menu items. Visit store number 5 right next to Biodynamic Marketing Co and Melba Fresh Organics.
Key dates
Monday and Thursday 5.30 am – 10.00 am MMA staff answer parking allocation queries and take payments for parking in Store 78 across from the Customer Service Centre on the Fruit and Veg Buyers' Walk
Sunday 25 October Melbourne Market Family Day
30 October Conclusion of free Wi-Fi at Epping
---