This Week in the Market – Edition 52
At the Market
You are invited to the Melbourne Market Family Day!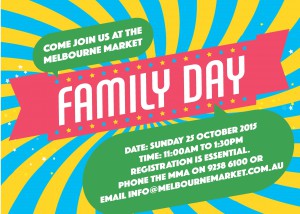 The Melbourne Market Authority invites all current market participants and their families to a massive Family Day to celebrate the opening of our new Melbourne Market at Epping. With a range of free activities for young and old this event promises to be a great day out. Bring along your family and show them our great new facility.
Date: Sunday 25 October 2015
Time: 11:00am to 1:30pm
Registration is essential. Call the MMA on 9258 6100 or email info@melbournemarket.com.au to register.
Event includes:
Mini carnival, live music, AFL stars, tours of the Market (for families) craft activities and much more!
What do you think about the new Market? Survey closes tomorrow 
Tell us what you think about the new Market, what works and what can be done better? We need your feedback. Tell us by filling out this survey.
Before the move to Epping hundreds of you responded to our surveys, this gave us important information to provide support for the relocation. Now that we're here, we want to hear your thoughts about the move and the new Market.
Let us know by completing this survey.
Your answers will be anonymous, and it only takes 5 minutes.
Calling all Gold Card holders who are veterans of three Markets
We think there are a few of you out there – but we'd like to know for sure!
The MMA is keen to identify anyone who has worked at the Queen Vic Market, West Melbourne and now Epping.
Please contact Rebecca on 9258 6181 if you, or someone you know, meets this criteria as we'd like to get you together for a commemorative photo.
Parking
Remember – no passenger vehicles are allowed in any truck bays at any time.
Over the past weeks, a number of cars have been warned about parking in truck bays post trade. These warnings have ceased and any passenger vehicles found in these areas will now be issued with an Operating Rules Breach notice.
Grand Final Day Public Holiday and Parking for buyers this Thursday
The Market will be closed this Friday 2 October 2015 for the Grand Final Public Holiday.
With Friday being a public holiday, Thursday is anticipated to be a busy buying day in the Market.
Any buyer that usually has a parking allocation for Fridays can access the Market this Thursday, 1 October 2015.
These buyers are asked to follow the instructions of the Market Relations Officers who will direct you to an available parking bay (as buyers who have parking bays allocated to them on Thursdays will take priority for bays) in the vicinity of your usual parking bay.
To minimise congestion, buyers may want to consider visiting the Market later than usual.
Did you know?
Rapid roller doors are here to slow down forklift traffic to prevent collisions at forklift highway intersections.
Slow down when approaching these doors as any damages needs to be paid for by the offender – and yes, every door is monitored by CCTV so you will be identified if you are responsible for damages.
With doors costing up to $8,000 to repair, don't let it be you.
Any damage to bollards will also be passed onto the offender and cost up to $3,000 to repair.
If you do cause damage around the Market, let a Market Relations Officer know within 1 hour of the incident and receive a 20% discount on the repair bill.
Industry News
RJ and KA Talbot win 2015 Lord Mayor's Commendation
 
Congratulations are in order for Market fruit and vegetable stand holder RJ and KA Talbot.
The Talbot family got their start supplying vegetables to miners on the Victorian goldfields and 159 years later the business is still going strong at Epping. That achievement was celebrated recently when the business, took out the generational award in the 2015 Melbourne Lord Mayor's Commendations which is quite an achievement. To qualify, the business must have been operated by the same family within the City of Melbourne for three or more generations. Plus, the current proprietor must have been in the role for at least 10 years. Congratulations!
Read the full story here.
Accelerating Commercialisation initiative – grants available
Accelerating Commercialisation offers eligible small and medium businesses, entrepreneurs, and researchers access to Commercialisation Advisers with experience and connections to address the challenges associated with commercialising novel products, processes and services.
Eligible individuals and businesses that submit an Expression of Interest could be offered a Federal Government grant of up to 50 per cent of eligible project expenditure to assist in the commercialisation of novel products, processes and services up to $250,000 for Commercialisation Offices and Eligible Partner Entities, and $1 million for all other applicants.
Key dates
Monday and Thursday 5.30 am – 10.00 am
MMA staff answer parking allocation queries and take payments for parking in Store 78 across from the Customer Service Centre on the Fruit and Veg Buyers Walk
Friday 2 October
Grand Final Public Holiday
Sunday 25 October
Melbourne Market Family Day
30 October
Conclusion of free Wi-Fi at Epping
---