This Week in the Market – Edition 50
At the Market
On site document shredding at a discount  
Dispose of unnecessary files and documents and get your business a kick start at Epping. Shred on Site will be on the trading floor on Thursday 17 September from 10am-12 noon. Phone Andrew to make an appointment on (m) 0417 383 605   Competitive pricing still applied – $40 per 'bin' with $5 from each bin being donated to Market on the Move charities Very Special Kids and 20th Man Youth Fund.   Pooling equipment accounts- action required As you are aware, the Operating Rules require all Market businesses to hold a current pooling equipment account from an official supplier such as CHEP, Loscam or similar. If you don't use pooling equipment, or use pallets which are not a branded product, you can seek exemption by providing a statutory declaration stating you DO NOT use pooling equipment. Market Relations Officers will be paying a visit to Fruit and Vegetable businesses who haven't advised the MMA of their pooling equipment account number or provided a statutory declaration. Failure to advise the MMA about pooling equipment use by 25 September means all access cards associated with your business are at risk of being de-activated. Greengrocers are advised to download a pooling equipment account form and finalise their accounts.
Separation of vehicles at Epping  
As highlighted in last week's edition of This week in the Market , in the interests of safety please ensure you always:
As per Market Operating Rules demerit points are applicable for non-compliance. Any demerit points incurred by an individual are also incurred by an employers' business. View Infringement Schedule on our website.
A guide to parking at Epping
A reminder about parking was sent out last week and can now be viewed on the website outlining parking guidelines we all need to follow. These are in place to ensure the Market can run as smoothly and efficiently as possible. Enforcement is about to commence regarding:
parking in bays allocated to the nominated vehicle
appropriate vehicle type for the parking bay
display of vehicle permits.
Remember the associated conditions with parking permits mean Permit Holders must not assign, sub-licence or transfer parking permits. Those caught engaging in any illegal activity associated with parking permits risk eviction from the Market and cancellation of leases or licences. On the MMA website you can see how parking works at Epping.
Did you know?
The new Melbourne Market Navigator app has been downloaded over 1550 times! It's a great tool to assist you in finding your way around as quickly as possible. Plus the Melbourne Market are offering all market users free Wi-Fi for web browsing until October 30 2015! To access the free Wi-Fi follow the steps below.
Go to your Wi-fi settings on your smart phone or mobile device
Choose the network "MelbourneMarketwifi"
Open your web browser
Follow the prompts to create your new Wi-Fi account.
The Melbourne Market Wi-Fi is available within the flower market, trading stands and the buyers walk.
Industry News
Calling All Greengrocers!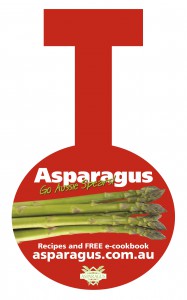 Pick up your free Go Aussie Spears Retailer Kit supplied by the Australian Asparagus Council to help drive your sales of Australian asparagus! Available now from the Customer Service Centre open Monday – Friday 4.00 am – 11.30 am.   Fresh Australian asparagus is available from September to March, making it the perfect spring and summer vegetable for all menus.
Nice one!
Great to see so many people who choose to smoke using the designated smoking areas, keeping the rest of the Market smoke free.
All wrapped up with Cue B R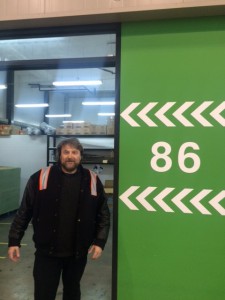 Sam from Cue B R (pictured in front of his store) is very pleased with his new home at Epping, centrally located right next to the MMA Customer Service Centre at Store 82-86 on the Buyers Walk. Fully stocked with all your packaging requirements such as stickers, bags, signage, netting and wrapping, most of which is Australian designed, made and manufactured. Sam says the move has been positive and they are "excited to be able to make new lines available to all of our Market customers old and new".
Ask the MMA
We have received some great questions and suggestions since the move to our new home.
Reflective paint for floor depressions including drains to aid in driving across site
Additional markings have been added to highlight forklift highways and pedestrian walkways
Rubbish bins distributed for disposal of coffee cups and general rubbish
Music to be piped through the Market PA system
Stop signs are being added to rapid lift roller doors to prevent damage by forklifts.
Works are in progress to address some of these suggestions. If you have a question for the MMA please send it to submissions@melbournemarkets.com.au
Key dates
Friday 2 October   Grand Final Public Holiday   Friday 18 September   Mailbox application and payment required 30 October Conclusion of free Wi-Fi at Epping
---