This Week in the Market edition 164 – 30 January 2018
In today's This Week in the Market, are you our next social star? Plus the Greengrocer training program gains media attention, Valentine's Day campaign material is now available for stores plus some snaps from the Australia Day BBQ.
Are you our next social media star?
We're currently searching for growers, wholesalers and retailers to profile for our Melbourne Market Epping Facebook page.

Our Facebook page is dedicated to promoting all things fresh and in season at the Market. Last week Harry's top carrot tips reached over 5.7K people.

Help us show Victorian's that for beautiful fresh produce look no further than your local grocer. We need you to tell your story, share your tips and show us your produce.

If you'd like to feature or have a great idea for a post please contact us today.
Not keen to feature but still want to be part of the social movement? Head over to Melbourne Market Epping on Facebook, follow the page and share and comment on our posts to help increase our following.
Aussie, Aussie, Aussie!
Thanks to everyone who came to grab a free snag on Thursday for Australia Day. We hope everyone enjoyed the long weekend.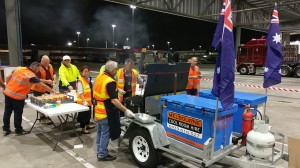 Foodbank need your help
Foodbank have resumed their collections from the Market so it's timely to remind stallholders that produce donated to Foodbank must be fit for human consumption. That means no mouldy or rotting produce can be left at the collection point.
Please note, any produce left at the Foodbank collection point that is not fit for human consumption will be considered rubbish dumping and the offender will incur an infringement of $200 plus an additional $50 if the dumped produce is on a pallet.
Organic product that is fit for human consumption can continue to be donated to Foodbank next to Store 148 Monday to Friday from 6.30 am until 9.00 am and is tax deductible at the Market price of the produce.
This produce is then distributed to Victorian families and individuals who are experiencing hardship and crisis. For more information please contact Foodbank on 03 9362 8300.
Good Fruit & Vegetables, 28 January 2018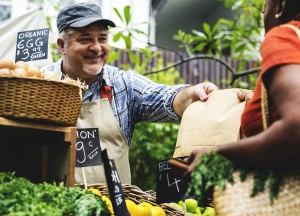 AUSTRALIA has developed what is believed to be the world's first formal qualifications to be a greengrocer.
A new "greengrocery qualification", developed in Melbourne, aims to enable workers to gain a formal qualification with career pathways within the industry.
Read more or for more information on the program contact Fotina Babalis.
A campaign to "Feel the Love" with fresh flowers this Valentine's Day
This year, the Melbourne Market in conjunction with Flowers Victoria have created a romantic and whimsical marketing campaign. This visually appealing and sophisticated imagery will grab attention and drive the public to buy fresh flowers.
The campaign goes live on Wednesday 7 February, driving the key message: "Feel the Love – Celebrate love with fresh flowers this Valentine's Day".
It will be supported with advertising in the following medians:
Radio – Triple M, Nova,
Facebook,
Instagram, and
Market Fresh website.
To drive the message and make this campaign work, we need your help! Use the imagery provided and create your own take on the romance of the campaign, but most of all hashtag #Feelthelove. So jump on board and let's celebrate love with fresh flowers. Head to www.poweroftheflower.com.au and download the campaign materials or pick up your merchandising kit from the Flower Market this Thursday from 4am or from the Melbourne Market Customer Service Centre.
$30 Million for farmers to manage on farm energy
The Government is investing $30 million to help Victoria's farmers manage energy costs through improved efficiency and new technology.
The plan will help Victorian farmers reduce energy costs and maintain competitiveness by providing on farm energy assessments, as well as grants to improve energy efficiency and install renewable energy systems.
The Agriculture Energy Investment Plan provides:
$5 million for energy efficiency assessments on farm
$20 million in grants to support farmers invest in energy efficiency and generation technology
$1.5 million to demonstrate energy efficiency and generation measures on farm
$2.5 million to link farmers and businesses to information, education resources and apps
$1 million in research to commercialise research for the farming sector.
How do I apply to get an energy assessment or grant? 
Register your details and be kept up-to-date on the latest developments on the Agriculture Energy Investment Plan, including details on when and how to apply for on-farm assessments and grants.
Key Dates
Valentine's Day

Chinese New Year Celebrations
---