Forklift / Electric Vehicle Storage
There are three areas set aside for storage of forklifts/electric vehicles at the new market, Epping. These areas are marked on the map below and each area has a total of 94 bays.
Vehicle storage area 1 – has no powered bays;
Vehicle storage areas 2 and 3 – have powered bays available, (subject to demand).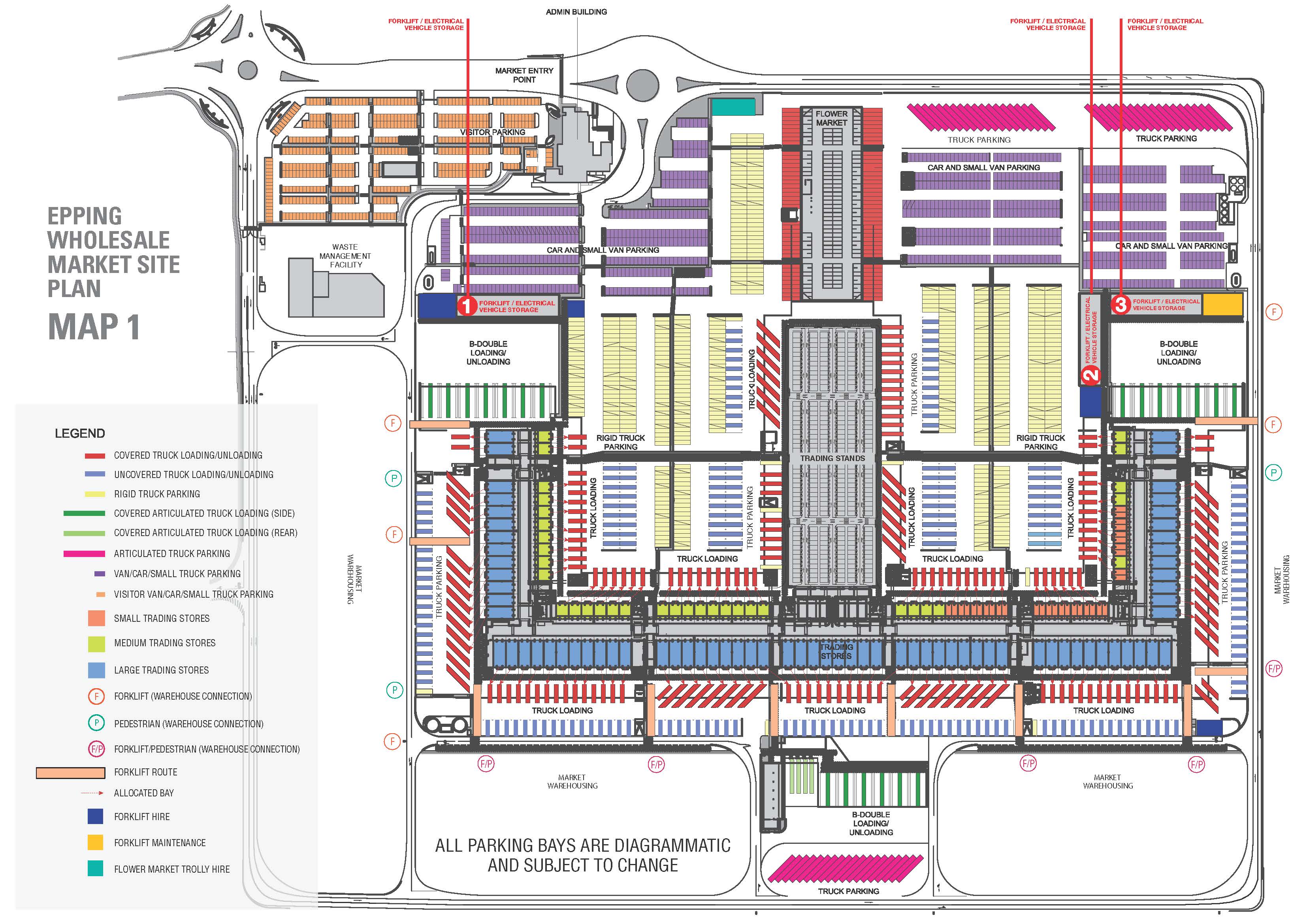 An Expression of Interest (EOI) is being called for the spaces available in the three vehicle storage areas at Epping. Download the form here.
Forms need to be returned by Thursday 14 April 2015.
All businesses that currently have a forklift storage cage licence for the West Melbourne market will be given priority in the EOI.
Subject to availability and demand for vehicle storage, businesses will be allocated to one of the storage areas based on the location of their business and their parking. Sub-licencing of bays is not permitted.
Please note that the forklift/electric vehicle storage areas can only be used for the storage of forklifts and electric vehicles.
Forklifts and electric vehicles must fit within the painted bays that are 3.42 metres long by 1.42 metres wide.
The Melbourne Market Authority will install 240V/15 amp outlets for no cost to market businesses for each electric vehicle storage bay. Please note there is no 3 phase power available for charging at electric forklifts or vehicles.
The rental cost for a forklift/electric vehicle storage bay is $392.30 per quarter inc GST, the same cost that applies at West Melbourne.
The power usage charge to apply for an electric vehicle or forklift is $395 per quarter inc GST.
If you submit an EOI, you'll be notified of the outcome in April 2015.
There will be a site visits in May 2015 to view the forklift/electric vehicle storage areas. The dates for these visits will be advised to you.
---