Flower Market Circular – Edition 31
Have you got your Valentine's Day Promotional Pack? Collect your Free Window Decals and information pack, outside Apack or Customer Service Centre on Thursday OR download your pack today!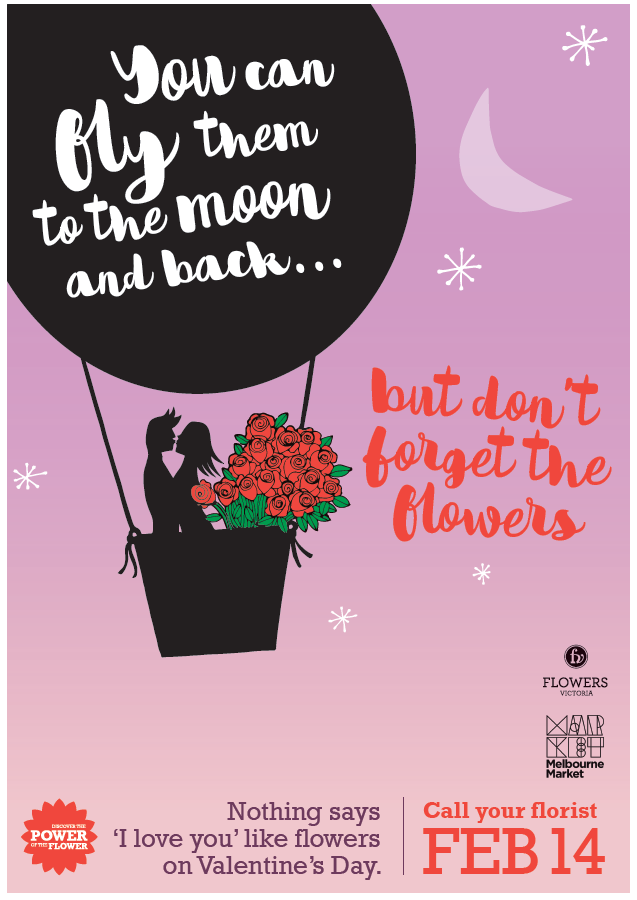 The love event of the year is less than two weeks away.  Are you ready? Have you collected your Valentine's Day promotional pack with tips and free window decals?  Have you updated your facebook page or merchandised your store with "Don't forget the flowers posters?"
Collect your Valentine's Day Promotional pack at the Melbourne Market outside Apack or the Customer Service Centre when you are in next or download all the free posters, facebook tiles and logos from www.poweroftheflower.com.au today.
This year Valentine's Day falls on a Sunday, so romantics opt for the lavish gifts like weekends away or dinner out.  But this Valentine's day we want everyone to know, its ok to wine and dine your loved one, you can even fly them to the moon and back, but don't forget the flowers!
Nothing says 'I love you' like flowers this Valentine's Day.
Next week you will hear the campaign on: Nova 100 and Triple M or you might see it on facebook or online through sites such as Carsguide, Herald Sun and many more.
To make it the most effective campaign possible, we need all florists to jump on board, merchandise your store, update your social media sites and encourage everyone "Don't forget the flowers".
This campaign has been generously funded on the behalf of the industry by
Melbourne Market
Flowers Victoria
Halit Flowers
The Orchid Man
Wafex
Mr Fresh
---