Flower Market Circular – Edition 26
Today's edition includes Christmas trading hours, Spring Racing Carnival wrap and coffee in the Flower Market.
At the Market
Coffee. Kafe. Kava. Caffe.  
No matter what language you speak, we all know work is much more enjoyable with good coffee. So, a temporary coffee cart has been organised and will be situated next to Apack this week. A range of coffee will be available using their award winning coffee beans. Chilled beverages and snack menu will also be on offer, so pop in and let Mark take care of you while at the Flower Market.
Christmas trading hours for the Flower Market
Thursday 24 December ………………..3.30 am – 7.00 am
Friday 25 December ……………………CLOSED
Christmas Day public holiday Saturday 26 December ………………..CLOSED
Boxing Day public holiday Monday 28 December ………………….CLOSED
Boxing Day public holiday Tuesday 29 December …………………3.30 am – 7.00 am
Friday 1 January …………………………CLOSED
New Year's Day public holiday Full Market Christmas trading hours can be viewed on the website.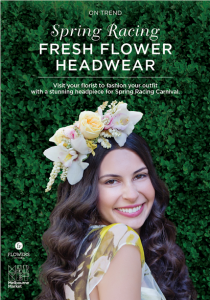 Spring Racing Carnival campaign wrap
During Spring Racing Carnival we encouraged punters to choose flowers as part of their on-field fashion. Our Spring Racing Carnival campaign focused on fresh flower head pieces with Express Flower Crown Workshops held in October at the Flower Market.   These well attended workshops were a joint initiative between Melbourne Market and Flowers Victoria and enlisted Bloom College providing florists with some flower crown skills to get race ready in support of our promotion. It was great to see so many beautiful designs and handiwork of some very talented florists. The workshop included free model and photographer supplied to upload and promote the flower crown creations on social media platforms.
Halit Flowers featured by Flowers Victoria
Fidrim Halit from Halit Flowers is featured by Flowers Victoria as their grower of the month for November. At one stage he had half a million plants and was the biggest producer of carnations in their farm's area. Over the years, more lines were added to the farm to cater for supply of all year round seasonal flowers including Gypsy. Read all about Fidrim's journey to becoming a successful grower and seller at the Flower Market on the Flowers Victoria website.
Industry News 
A full range of local peonies have been spotted in the Flower Market. Florists and stylists eagerly await the arrival of these beauties which are available for a short season from November.   Peonies are sometimes called 'Queen of the Flowers'. Few plants are surrounded with as much mystique as the peony. Herbaceous peonies are most beautiful plants, with a multitude of delicate petals wrapped into large tight flowers. They need a good cold winter to grow well so supplies come mostly from Victoria and New South Wales. Long renowned for their large, often perfumed flowers, peonies have been prized for centuries by flower lovers. Flowers have several rings of petals, depending on the variety, with some looking like large ruffled garden roses. Single forms have 5 or more petals, and the fluffy yellow flower centre is clearly visible, while all you can see in double forms are ruffled petals. Flower colour ranges from pure white to pink and peach to clear red and dark maroon. Yellow forms are very rare, and there are no blue varieties – yet. Some forms, particularly double pinks, have a beautiful fragrance. Flowering season is short – usually 6 weeks or so. Dakota Flowers, Koomens Flowers and Monvale Flowers are amongst growers that stock a range of peonies In the Flower Market so be sure to visit them during the short season.   For more information about seasonal blooms, be sure to check out the MarketFresh website.
Shop Small, a national movement committed to supporting small businesses such as florists, at a local level, is on throughout November. It encourages shoppers to visit family businesses and independents that make each neighbourhood unique. Shoppers can receive up to ten $10 credits simply for shopping small as well as have the chance to win a $500 Hotel voucher for sharing on social media (T&Cs apply). If you are a florist and register on the site, you can create complimentary online ads, develop customised in-store signage, and be in the draw to win a $5,000 business grant. To find out more visit.
Key dates
Parking inquiries
Monday and Thursday   Parking queries and payments can be made by visiting Store 78 (across from the Customer Service Centre) on the Fruit and Veg Buyers' Walk from 5.00 am to 9.00 am on Monday and Thursday.
Flower Market Café
Slated for completion early December.
---