Flower Market Circular – Edition 20
What do you think about the new Market?  
What do you think about the new Market? What works? What can be done better? We want to hear from you. Tell us by filling out this survey. Before the move to Epping hundreds of you responded to our surveys, this gave us important information to provide support for the relocation. Now that we're settling into the new Market, we'd like to hear what you thought about the move and what you think about the new Market. Let us know by completing this survey.   Your answers will be anonymous, and it only takes 5 minutes to complete the survey.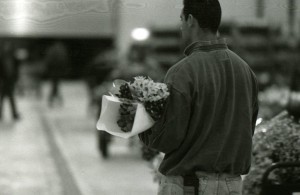 Celebrating the Market's heritage- can you help?
A mural commemorating the rich history of wholesale fruit, vegetable and cut flower trading in Victoria is planned for everyone to enjoy in our new Market. If you or someone you know has an image of the Melbourne Market from years gone by we would love to hear from you. Please contact Rebecca Curcija this week by phone 9258 6181 or email.
Remember
It's school holidays and we'd like to remind everyone that no children under the age of 15 are allowed on Market land.
Parking 
Enforcement is about to commence regarding:
parking in bays allocated to the nominated vehicle
appropriate vehicle type for the parking bay
display of vehicle permits.
Please ensure you do the right thing when parking at the Market.
Did you know?
We now have an express post mail box in front of the Administration Building.   To access next day delivery please ensure you place your express post item in the mail box prior to 4.30pm.   Please note, this box is only temporary. Australia Post will assess if the express post box will become a permanent fixture based on usage, if you'd like this service retained, please use it!   The Australia Post Somerton Business Hub is located at 2-6 Scammel St Somerton Vic 306 which offers a range of postage and packaging options to suit your business needs. The Somerton Business Hub offers free delivery for all stock and postal orders over $50 and offers a credit account. Please feel free to contact them by email or 03 9241 3486. For more detail about Australia Post business hubs visit.
Nice one
Great to see so many people who choose to smoke using the designated smoking areas, keeping the rest of the Market smoke free.
---